Agility SM 2020 Fräschels
Die Schweizermeisterschaft Agility Einzel findet am Wochenende des 19. und 20. September 2020 in Fräschels statt (RUND UM HUND).
Die TKAMO bedankt sich ganz herzlich beim Hundessport Moos und Dog Sport Events für die Bewerbung und die Bereitschaft, die grösste und bedeutendste nationale Agility Veranstaltung auszurichten.
Website 2020
Als Richter werden René Blank aus Deutschland und Lorenzo Celic aus Italien zum Einsatz kommen.
René Blank (GER)
Hallo, ich bin René Blank, komme aus Leipzig in Deutschland und betreibe Agility seit 1996. Aktuell führe ich "Q", eine 5jährige Border Collie Hündin, im A3.
Als ich 2004 gefragt wurde, ob ich mir vorstellen könnte, Leistungsrichter zu werden, haben meine Lebensgefährtin Sibylle und ich beschlossen, gemeinsam dieses Abenteuer zu starten. Schon bald verbrachte ich - auch aufgrund zahlreicher Einsätze - genauso viel Zeit mit Parcoursdesign wie mit Training. Entgültig wurde der Hauptfokus auf das Richteramt gelenkt, als ich 2012 meine internationale Lizenz erhielt. Ich hatte seitdem die Ehre, zahlreiche WM-Qualifikationen, Meisterschaften und große Turniere im In- und Ausland zu richten.
Ich liebe es, an den Lauflinien der Hunde zu feilen, mit den Winkelungen der Sprünge zu spielen und gleichzeitig eine höchstmögliche Vielfalt an Führoptionen zu bieten. Ziel ist es für mich, individuell unterschiedliche, jedoch auf das jeweilige Team perfekt abgestimmte Wege beim Richten zu sehen.
Ich freue mich deshalb sehr, die SM 2020 mit richten zu dürfen und in dem großen Starterfeld viele Top-Teams zu motivieren, die für sich ideale Lösung im Parcours zu finden!
Lorenzo Celic (ITA)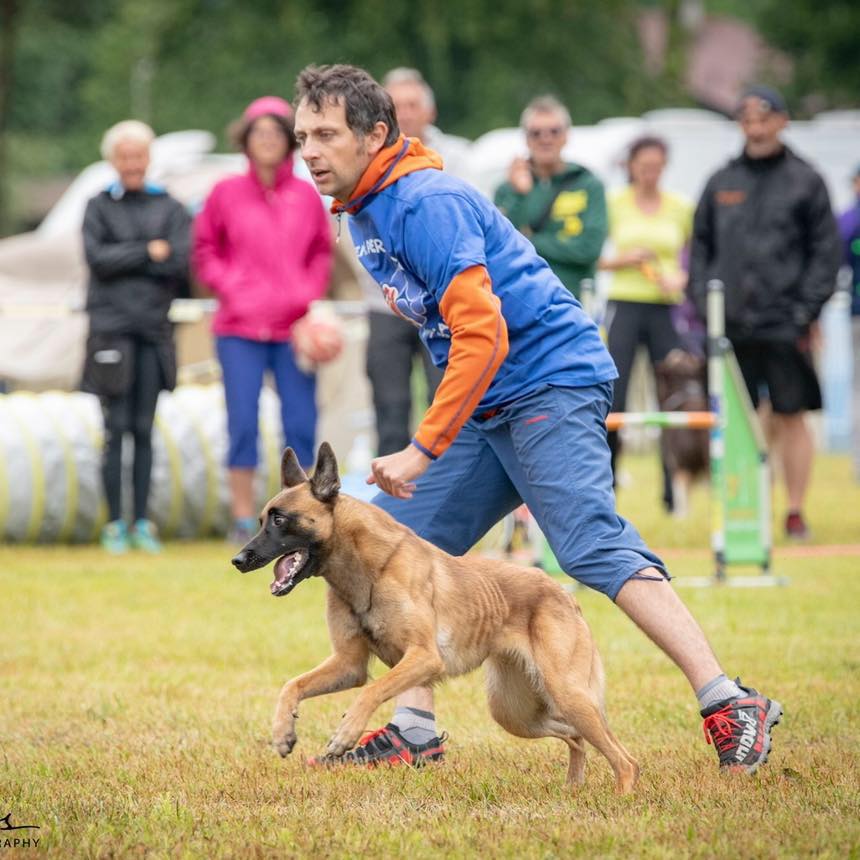 I was born in Trieste, near the Italo-Slovene border of those times in 1978.
Agility went straight to my heart back in 1998 thanks to Ebony, my Border Collie. Nowadays I race with girl Reason, my fantastic Malinois.
Since 1999 my passion for Agility has pushed me to collaborate with the judges to organize the courses. So, as a result, my dreams came true in 2014: I became an official ENCI and then FCI judge.
During my training to become a judge I worked in team with my tutor to organize, create the courses and judge the qualification performances for the FCI World Agility Championships in 2012 and 2013.
The significant competition that I judged are:
IABC 2015 in Italy, Final Italian Absolute Championship 2016, Final Italian ENCI Trophy 2017, Final Slovenian Cup 2016 and 2017, Italian Qualification for EO2016 –EO2017 and AWC2016, then 2017 2018 and 2019, Jury in the European Open 2017 in Salice Terme (Italy), Final of "Retrievers Championship" in L'ALMOZARA Zaragoza 2017, National Qualification in Czech Rep., in Austria, in Italy, Dog Agil 2018 in Avignon, FMBB 2018 in Slovenia